Boating at Lake Tahoe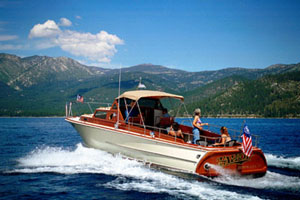 "Tahoe" cruising off of the north shore
Completely restored last summer and ready for your private charter this May thru September 2000!
(775) 588-3000 - USCG Captain Stephen Dunham
---
---
Centrally located 1-1/2 miles west of the Stateline Casinos
Behind Timber Cove Lodge (across from Safeway)
P.O. Box 9653 · 3411 Lake Tahoe Blvd., South Lake Tahoe, California 96158
Jet Skis - Ski Boats - Sail Boats - Party Boats - Parasailing
(530) 544-JETS (5387)
Visit our second location
across from the Hyatt in Incline Village, Nevada
(702) 831-4FUN (4386)
Visit our third location
Meeks Bay Marina, 10 miles south of Tahoe City, CA
(530) 525-5588
---
Boat service and repair, fishing and sailing excursions and charters, Woodwind I Trimaran, boat rentals such as kayaks, jet skis, runabouts, paddle boats), raft tours, boat and accessory sales, mooring buoy rentals. Free mooring or tie-up at pier when patronizing any Camp Richardson business.
1900 Jameson Beach Rd., off of Hwy 89, South Lake Tahoe, CA 96158
(530) 542-6570
---
Homewood Marina
Mooring buoys, on shore storage, slips, forklift launch, boat cleaning and waxing.
5190 West Lake Blvd., Homewood, CA 96141
(530) 525-5966 or Fax: (530) 525-0209
---
Lakeside Marina
Launch ramp, boat storage,
slips and moorings, boat rentals,
fuel dock, "5 minute walk from casinos".

Park Ave. & Lakeshore, South Lake Tahoe, CA 96150
(530) 541-6626
---
Meeks Bay Marina
Marina, launch ramp, adjacent to campground and lodging.
7941 Emerald Bay Road, Tahoma, CA 96142
(530) 525-5588 or Fax: (530) 525-4028
---
North Tahoe Marina
Full-service, speedboat-oriented marina; fuel dock, power boat
rentals, storage, launching, boat sales, full service repair.
7360 North Lake Blvd., Tahoe Vista, CA 96148
(530) 546-8248 or (800) 58MARINA
---
Obexer's Boat Company
Originally established in 1911. Boat service, sales and repair, mast stepping, slips, mooring buoys, inside and outside on-shore storage, launch ramp, forklift launch, travelift, pumpout, gas dock, chandlery.
5300 West Lake Blvd., Homewood, CA 96141
(530) 525-7962
---
Round Hill Pines Beach Marina
Huge pier, ski school, big mooring field, short-term tieup at dock, buoys and
watertaxi, may beach boat as well; snack bar, tennis, swimming pool.
Marla Bay, Hwy 50, Stateline, Nevada 89449
(775) 588-3055
---
THE wooden boat restoration company, sales, service, chandlery, fuel dock. No guest slips or docking (except for fuel); visitors can use Gar Woods pier next door.
5146 North Lake Blvd., Carnelian Bay, CA 96140
(530) 546-2551 or Fax: (530) 546-7321
---
Ski Run Marina
Nice marina with alot of new shops and restaurants, slips and moorings for rent.
Moorings; water taxi until 9 pm (shallow water and limited room to maneuver)
900 Ski Run Blvd., South Lake Tahoe, CA 96150
(530) 541-5448
---
Sunnyside Marina
Boat launch (forklift, $35.00), mooring buoys, docks, water taxi, fuel dock.
1835 West Lake Blvd., Sunnyside, CA
(530) 583-7201
---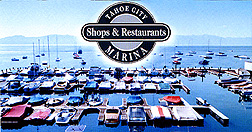 Full service, right in the middle of town, easy access on foot to
supermarkets, shops, restaurants, services; free mooring, travelift.
A few guest spots at base of fuel dock and along waterfront in front of Grazie!; or pick up a guest mooring and dinghy in or call Marina for pick-up.
700 North Lake Blvd. Tahoe City, CA 96145
(530) 583-1039
---
Tahoe Keys Marina
The largest marina on the lake, with 280 slips, 45 ton travelift,
forklift or ramp launching, wet or dry storage, boat rentals; full boat service and repair available, fuel dock and pumpout.
2475 Venice Dr., off of Hwy. 50, South Lake Tahoe, CA 95731
(530) 541-2155 or Fax: (530) 541-8124
---
Tahoe Vista Inn & Marina
Suites w/fireplaces, kitchens, and decks, on the lake, small launch ramp, some moorings (no taxi), 3 or 4 guest slips, very shallow bottom.
7220 North Lake Blvd., Tahoe Vista, CA 96148
(530) 546-7662 (800) 662-3433 or Fax: (530) 546-7963
---
Timber Cove Marina
More of a long pier than a real marina; boat rentals, speedboat rides, parasailing and sportfishing.
3411 Lake Tahoe Blvd., South Lake Tahoe, CA 96150
(530) 544-2942
---
Power boats available, jet skis and pedal boats, fuel dock with diesel.
M.S. Dixie paddlewheeler cruises and Woodwind Sailing Cruises.

760 Hwy 50, Zephyr Cove, Nevada 89448
(775) 588-3833
---
For More Information On Boating Look Here: www.tahoeboating.com