Lake Tahoe Sailing Cruises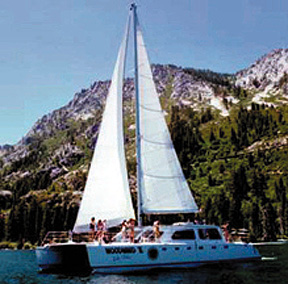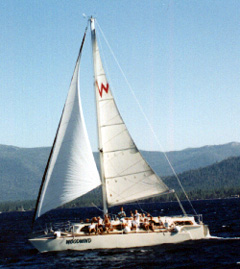 Woodwind Sailing Cruises is one of the oldest sailing companies in the US.
We specialize in spectacular daily sightseeing and romantic sunset champagne cruises,
weddings, receptions, private cruises and charters . The Woodwind fleet includes the
original Woodwind I, a 41 ft. 30 passenger Searunner trimaran sailing to Emerald Bay
from historic Camp Richardson Resort on the California side in South Lake Tahoe.
The new Woodwind II, a 55 ft. 50 passenger Searunner catamaran sails from beautiful
Zephyr Cove Resort on the Nevada eastern shore. Sailing on Lake Tahoe more than
6000 ft. above sea level surrounded by majestic snow capped peaks is an experience
to remember. Join us for one of our daily cruises or let us help you plan that
special charter or wedding. Ask us about your wedding license, minister, catering,
flowers, or photographer, we can arrange it all for you.
Check out our web site for alot more information and photos!
Daily cruises and Sunset Sails departing daily from
Historic Zephyr Cove Resort, NV (775) 588-3000 and from
Camp Richardon Resort, CA (530) 542-2212
(888) 867-6394
---
Sailing Ventures is committed to teaching people the art and science of sailing so they
may experience the uniquely satisfying pleasures that sailors enjoy.
Sailing Charters - Sailing School - Sailing Club
Located at the Tahoe Keys Marina
Sailing Ventures 2000 · P.O. Box 11760 Zephyr Cove, NV 89448

Phone (530) 542-1691 · Toll Free (877) 542-1691 · Fax (775) 883-6543

SailingVentures@SailTahoe.com
---
North Shore Sailing Cruises
---

  Sail on Lake Tahoe with us on skippered sailing cruises touring the North Shore.

Enjoy hands on sailing or just sit back and relax aboard the 35 foot sailboat "Avalanche." or our new

50' sailboat Tahoe Cruz which is offering afternoon cruises, sunset sails as well as the Emerald Bay Sunday Brunch

 

Avoid the crowds on large cruise boats and experience the beauty and serenity of Lake Tahoe in a

truly natural way. We cater to small groups up to six people. Private Charters also Available.

 

Half-Day Cruises

 

Sunset Cruises

 

Emerald Bay Cruises

 

Private Sailing Charters

 

(530) 583-6200

 

Tahoe City Marina

 

 

www.TAHOESAIL.com