Wedding Services at Lake Tahoe

24 KT SOUND DISC JOCKEY
Franz Seifert, P. O. Box 5905, Tahoe City, CA 96145 (530) 583-7637
---
A LAKE TAHOE WEDDING
COORDINATION & REFERRAL
Wedding Consultants, Call for Information , South Lake Tahoe, CA
(530) 573-6044 or (800) 427-3148

---
All Occasion Balloons
P.O. Box 7637, Incline Village, NV 89452 (775) 832-8000
---

BACKFENCE SEW & SO CUSTOM COSTUMERS
Costumes/Themed/Wedding Attire
Call for an Appointment, South Lake Tahoe, CA (530) 544-0755
---
CELTIC HARP MUSIC
by Anne Roos
P.O. Box 15190, South Lake Tahoe, CA 96151
(530) 577-3005 (800) 255-6318
---
TOM DELANEY ORCHESTRAS
P.O. Box 4584, Incline Village, NV 89450 (775) 831-3527
---

EMBASSY WEDDING SERVICES
Embassy Suites Hotel, P.O. Box 1430, Zephyr Cove, NV 89448
Voice: (530) 544-2300 Fax: (530) 544-3570
Toll Free: 800-722-6660
---
THE ENTERTAINER
Call for Information, South Lake Tahoe, CA 96150 (530) 577-7575
Wedding Consultants
(800) 869-1449
---
FANTASY WEDDINGS
3696 Lake Tahoe Blvd., South Lake Tahoe, CA 96150 (530) 541-7275
800-624-3837
---


FOREVER ELEGANT
Call for an Appointment South Lake Tahoe, CA (530) 542-2366
---


HEAVENLY WEDDINGS
Saddle Rd., South Lake Tahoe, CA 96150 (530) 542-5153
---
HIGH SIERRA PHOTOGRAPHY
P.O. Box 7802, Incline Village, NV 89452
(775) 832-7474
---
HIGH ALTITUDE CATERING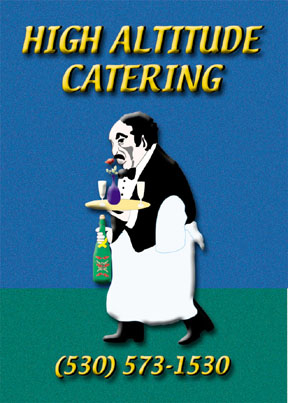 SERVING ENTIRE LAKE TAHOE BASIN
---
JJ ENTERTAINMENT
Mobile DJ, Karaoke (800) 662-8155
---
LAKE TAHOE MOBILE MUSIC
Nationally recognized d.j. services (775) 885-2222
---
LAKE TAHOE WEDDINGS /LODGING BUREAU
1154 Emerald Bay Road, P.O. Box 14288
South Lake Tahoe, CA 96151 (530) 544-3069
800-228-2463
---
MY WEDDING PLANNER
275 Kingsbury Grade, #C, P.O. Box 6056
Stateline, NV 89449 (775) 586-8582
800 541-6072
---
MOUNTAIN HIGH WEDDINGS
Mt. High Weddings specializes in providing you and your partner the opportunity for a unique experience,
whether you're adventurous or simply want something different. They can marry you under a full moon,
on top of a mountain or in a sunbathed meadow, during any time of the year.
As marriage celebrants we are excited to bring two people together anywhere.
Rev.Christa Deane

PO Box 294, Homewood,CA 96141
Phone(530)525-9320 - Cell(530)906-5572

e-mail mthighwed@thegrid.net

---
NORTH LAKE TAHOE WEDDING
AND HONEYMOON ASSOCIATION
Beverly Bedard, P. O. Box 7998, Tahoe City, CA 96145
(530) 581-1810, (800) 358-LOVE
---
THE PARTY BOAT
2435 Venice Dr. East, South Lake Tahoe, CA 96150 (530) 542-2111
Wedding Yacht Charters
(888) 542-2111
---
PHOTOGRAPHY WITH LOVE
P.O. Box 5666, Incline Village, NV 89450
(775) 831-8593
---
ROYAL LIMOUSINE SERVICE
West River Rd., Truckee, CA (530) 582-1300
(800) 660-4546
---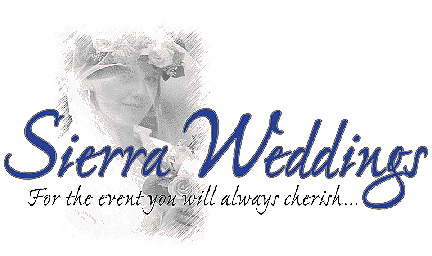 Your wedding day ...at Lake Tahoe....Imagine, your ceremony and reception
enhanced with the natural back drop of majestic snowcapped mountains, or
cruising to Emerald Bay on a private vessel. Providing your guests the
opportunity to take advantage of a weekend getaway by staying at some of Lake
Tahoe's mountain lodging properties. Sierra Weddings will provide you
exclusive service for the ultimate destination wedding event.
Sierra Weddings
P.O. Box 18152, South Lake Tahoe, CA 96151
(530) 573-1138

---

Your wedding, your way!!
Let us help you coordinate your most important day and make it one to remember at a price you can afford.
We provide non-denominational ceremonies performed by Rev. Steve Klith. Traditional or non-traditional,
casual, simple or elegant, we can help put together the day you've always dreamed of.
"A happy marriage has in it all the pleasures of friendships, all the enjoyment
of sense and reason and indeed all the sweets of life." ~ Joseph Addison ~
The pristine blue waters of Lake Tahoe and the magnificent mountains that surround it are
ideal for a breathtaking backdrop of an unforgettable wedding. Unique settings create memorable weddings.
Choose a stunning location for that special day from our locations page. If you'd like something more elegant,
check our other services. Our resource list can point you in the right direction when planning for your wedding:
Flowers - Catering and Cakes - Hair, Make-up and Nails - Spa Packages - Accommodations - Tuxedo Rental
Please contact us now to begin planning your wedding, your way!
888-543-0210

---

SOMETHING BORROWED-SOMETHING BLUE
2264 Lake Tahoe Blvd., #5, South Lake Tahoe, CA 96150 (530) 542-2218
(800) 244-6303
---

STAR STAGING
Call for an Appointment, Stateline, NV (775) 674-3138
Party Rentals-Weddings
---

TAHOE CHALET WEDDING CONSULTANT
3860 Lake Tahoe Blvd., South Lake Tahoe, CA 96150 (530) 544-3311
(800) 821-2656
---

TEPS LAKE TAHOE WEDDINGS
Wedding Receptions
3450 Lake Tahoe Blvd., South Lake Tahoe, CA 96150 (530) 541-8227
800-490-3066
---
TRUCKEE TAHOE LIMOUSINE & TOURS
10844 Heather Rd., Truckee, CA (530) 587-2160
(800) 255-2160
---
TUXEDOS OF LAKE TAHOE
Tuxedos of Lake Tahoe is a family owned business and we strive to give your wedding
the personalized attention that you deserve and desire. We provide expert
and we know you will be pleased with our caring attitude and friendly service. Your satisfaction
is very important to us from helping with the selection of the appropriate tux for the occasion,
to the perfect fit of the garmentswe take the time to do it right.
(775) 831-4504
2 Stateline Road, Crystal Bay, NV 89402
www.TuxedosOfLakeTahoe.com

---

TUX TOWN
Formal Wear-Rental & Sales
2180 Lake Tahoe Blvd., #7, South Lake Tahoe, CA 96150 (530) 542-1889
(800) 884-8897

---
THE VILLAGE PHOTOGRAPHER
P.O. Box 6009, Incline Village, NV 89450
(775) 832-8829
---

WEDDINGS BY DESIGN
Shirley Anderson, 1260 Canterbury Dr.
P. O. Box 2540, Kings Beach, CA 96143 (530) 546-7006
---
©2000-2006 Alpine Marketing. All Rights Reserved. Lake Tahoe Concierge™ is a trademark of Alpine Marketing.