Hot Air Ballooning at Lake Tahoe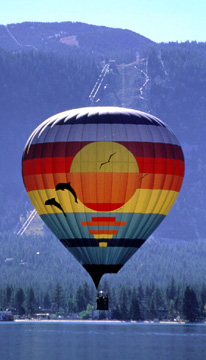 Photo Courtesy Lake Tahoe Visitors Authority
---
Balloons Over Lake Tahoe
P.O. Box 7797
South Lake Tahoe, CA 96158

Your ballooning adventure begins at Sunrise and ends approximately 3 hours later. During that time you'll experience a sensational Balloon Flight as well as a pleasurable boat cruise on Lake Tahoe.

Bring any type of camera, for the panoramic view will Guarantee photos and memories that will last a lifetime.

When the flight is over you will land on our 40 foot Trimaran Power Boat Vivid Dreams" and enjoy an early morning boat cruise back to shore. Revel in our 1st Class Celebration on Lake Tahoe as you cruise back with a Champagne and Orange Juice Toast along with Great Fruit, French Pastries, Cheese & Crackers,Beverages and a number of other amenities & souvenirs.
Reservations: (530) 544-7008

---
Dream Weavers Hot Air Balloons
Carson Valley, NV

(775) 265-1271 or (800) FUN-A-LOFT
---
Lake Tahoe Balloons
Enjoy incredible views while flying over Lake Tahoe.
State-of-the-art equipment, 15 years experience.

(530) 544-1221 or (800) 872-9294
---
Mountain High Balloons and Paragliding
(530) 587-6922