Lake Tahoe/Truckee Snowmobiling
---
Tahoe Snowmobiles -  Self Guided Rentals
See the beautiful Lake Tahoe area like you've never seen it before on your own self-guided tours!
Explore the Sierras with your family and friends on your own personal snowmobiles.

Bring your camera and plenty of film to capture these precious moments. 


Getting out in the wilderness on the high performence snowmobiles 
or touring snowmobiles will make your stay unforgettable. 

Marine Mart 
900 Ski Run Blvd. #18
South Lake Tahoe, CA 96150 

If you would like to place a reservation or have any questions please feel free to contact us at

(530) 541-5448  -  (530) 542-3294


Click here for Tahoe Sportfishing
---
Snowmobiling Unlimited, Inc.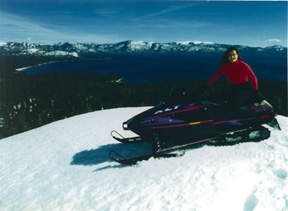 When you ride with us, you know you've been snowmobiling!
TAHOE'S OLDEST AND MOST EXPERIENCED TOUR OPERATORS
EST. 1983
Join us for a thrilling guided tour through some of Lake Tahoe's most scenic,
thickly wooded forest lands. Along the way we have gorgeous vista points
with eagle-eye views of Lake Tahoe, Squaw Valley USA, and Alpine Meadows.
On our two and three hour trips on groomed and powder trails, we climb to
an 8400' mountaintop. From here you can actually seethe depths of
Lake Tahoe, the jewel of the Sierra. P.O. Box 460, Carnelian Bay, CA 96140


(530) 583-7192 - Fax: (530) 583-4027