Fishing the Lake Tahoe Area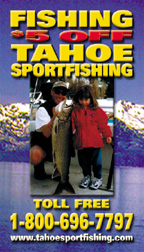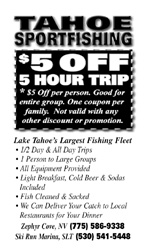 $5.00 Off Tahoe Sport Fishing
Look for this card in your motel lobby or any
McDonalds, Subway or Round Table Pizza!
Sierra lakes and rivers provide numerous opportunities to test your fishing skills.
To prevent overfishing and to give the fish a chance to reproduce naturally, rules
and regulations have been made. Several lakes and streams are closed to
fishing year round and some only allow catch and release.
Fishing licenses can be obtained from local sporting goods stores.
Licenses
Any person over 16 years old must have a valid California or Nevada sport
fishing license to fish in Lake Tahoe. Surrounding lakes and streams
require a license for the state in which you're fishing.
Hours
Fishing in Lake Tahoe is legal one hour before sunrise to two hours
after sunset. In all other bodies of water in the Tahoe area (Sierra District)
fishing is legal one hour before sunrise to one hour after sunset.
Limits
The daily limit for Lake Tahoe is 5 trout, but no more than 2 makinaw.
Most other lakes and streams in the Tahoe Basin have a limit of 5 trout.
Live Bait
No fish may be used for bait or possessed for use as bait in Lake Tahoe,
Fallen Leaf Lake or Donner Lake unless taken from that lake. Live bait
in these lakes are limited to the following: Lahonton Reside Shiner,
Tui Chub, Tahoe Sucker (not a gambler), Lahonton Mountain Sucker,
Piute Sculpin and Lahonton Speckeled Dace. Chumming is illegal.
---
Where to Fish
---

Ski, Snowboard & Clothing Shops - Party Boat & Weddings - Boat Rentals - Parasailing - Jet Skis - Sportfishing
Blue Lakes
A series of lakes located south of South Lake Tahoe, 12 miles off of Hwy. 88.
At over 8,000' elevation, Blue Lakes are some of the highest lakes accessible
by car. camping is also availbale nearby. Fishing is reported to be good
off the dams where the two lakes connect.
Carson River - West Fork
Flowing through Hope, Faith and Charity Valleys, this portion of the river
receives considerable use. It is located south of South Lake Tahoe along
Hwy. 88 East and also flows along Blue Lakes Raod.
Carson River - East Fork
Closed to all fishing above Carson Falls. From Hangman's Bridge (South
of Markleeville) downstream to the Nevada state line there is a minimum
size of 14 inches and must use artificial lures with single barbless hooks.
Echo Lakes
Just a short drive off of Hwy. 50, South Lake Tahoe, you can try both boat
and shore fishing here. Shore fishing is usually good from the dam (Dam good fishing).
Please respect the rights of private property and homeowners around the lake.
Fallen Leaf Lake
The best fishing is from a boat, but occasionally fish can be taken from the shore
with a good cast. The lake is a short walk from Fallen Leaf Lake Road and
Fallen Leaf Campground. Fishing within 250 feet of the dam is illegal.
Lake Tahoe
The best fishing is from a boat. For shore fishing try places where the shoreline
drops off quickly shuch as Rubicon Point on the west shore and Cave Rock on the
east shore. A day use fee is charged at both of these areas. Fishing is closed in the
lake within 300 feet of its tributaries and upstream to the first lake from
Ocober 1st through June 30th. The rest of the year the entire lake is open.
Sawmill Pond
A stocked pond for children 15 and under. Adults are allowed to help children
fish but are not allowed to fish themselves. The pond is located one mile
south of South Lake Tahoe along Hwy. 50.
Truckee River
Lake Tahoe's only outlet, the Truckee River, starts its journey from Lake Tahoe's
dam at Tahoe City and continues alon Hwy. 89 to the town of Truckee. Fishing is
closed year round from the dam to 1,000 feet downstream. Certain other sections
are closed also, please check current fishing regulation for specifics.
The Truckee River is very popular for fly fishing.
Upper Truckee River
The Upper Truckee is fed from the waters of Meiss Country south of Hwy. 89,
north of the town of Truckeee. Fishing is best in deep water pools.
---
California Department of Fish and Game
(916) 358-2900
Nevada Division of Wildlife
(775) 688-1500
---
Fishing Charters