Lake Tahoe Boat Cruises
---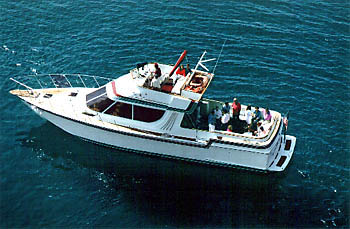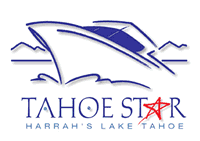 Private yacht of gaming legend William Harrah. Ship of the stars. A glorious, one-of-a-kind vessel, slicing elegantly across pristine waters leaving all others in her wake. This is the Tahoe Star, and she awaits you for the voyage of a lifetime. Whether it's a cruise to beautiful Emerald Bay or special gathering of family and friends, a wedding, business meeting or just sightseeing, there is no finer way to enjoy the wonders of Lake Tahoe.
Daily Emerald Bay Cruises
During our boating season the Tahoe Star offers regularly scheduled daily cruises to spectacular Emerald Bay. Also offered are narrated tours of the historic Nevada East Shore. See historic Vikingsholm Mansion and palatial lakefront homes. Visit Tahoe's most scenic spots in style!

Planning a Special Event?
The Tahoe Star is a great way to see the lake and its many attractions. It is ideally suited for weddings and wedding receptions, rehearsal dinners, family reunions, business meetings, company picnics, trips to any of our fine lakeside restaurants, or general sightseeing tours. We can help with any aspect of your arrangements. Pamper yourself and your guests with a private cruise aboard Harrah's Tahoe Star.
Cruising from late March through the end of October.
Call 1-800-HARRAHS
e-mail us or write:
Harrah's Tahoe Star
P.O. Box 8, Lake Tahoe, NV 89449-0008
---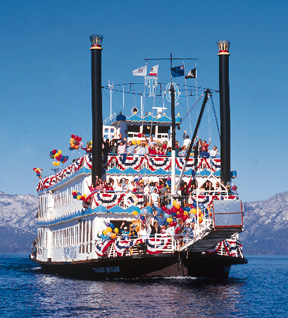 Welcome to the Lake Tahoe Cruises experience, where the celebration begins the moment you come aboard. Start with cocktails on deck, then relax as our gracious crew transports you to a world of ease and luxury. From an elegant dinner to an exciting casino cruise, Lake Tahoe Cruises has a cruise for every occasion.
Scenic Shoreline Emerald Bay Cruises - Dinner Dance Cruises
Relax in climate controlled comfort while experiencing the breathtaking views of the
surrounding Sierra Mountains and the crystal-clear waters of Lake Tahoe. Emerald
Bay cruises offer narrations about the environmentally sensitive Lake Tahoe region. Lake Tahoe Cruises also welcomes charter groups, private parties and weddings. Departing from the Marina Village at Ski Run Blvd., South Lake Tahoe, CA (800) 23-TAHOE
* For more information or to make a reservation call (800) 23-TAHOE
---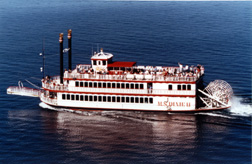 Lake Tahoe's Zephyr Cove Resort serves as home port to the M.S. Dixie II Paddlewheeler. Lake Tahoe's original paddlewheeler company welcomes you aboard the M.S. Dixie II. Voted Lake Tahoe's Best Boat Cruise, the M.S. Dixie II offers cruises to Lake Tahoe's most popular areas including historic Emerald Bay. Browse our web site and see for yourself why so many visitors prefer "Cruisin' Lake Tahoe" aboard the M.S. Dixie II.
Check out the action at Zephyr Cove Marina and Beach. You never know who you'll meet! What's your pleasure? Try parasailing high above Lake Tahoe, or jet skiing across its crystal clear waters ... or an early morning sportfishing adventure... or a romantic sunset sail aboard the Woodwind II ... And Zephyr Cove Marina has the largest rental boat fleet at Lake Tahoe featuring late model boats in every class. Departing from the Historic Zephyr Cover Resort, NV
---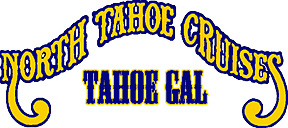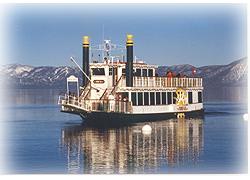 North Tahoe Cruises was established in 1977. It was the first
cruise line on the North Shore. The Tahoe Gal, is the newest
and only cruise boat located on the North Shore. We offer
daily cruises, along with exclusive charters for corporate
meetings, dinner, weddings and private parties.
She was christened July 8, 1994 and is equipped with a full galley and a full premium bar. For business meetings aboard the Tahoe Gal, we have available 110/220 outlets, wireless mic, VCR, TV, and state of the art stereo equipment. A private room called the Commodore's Salon, is perfect for small private parties and business meetings of up to 30 people on a regular daily cruise, without the expense of chartering the entire vessel.
Departs from Lighthouse Marina, behind Safeway, Tahoe City, CA
(530) 583-0141 or (800) 218-2464
---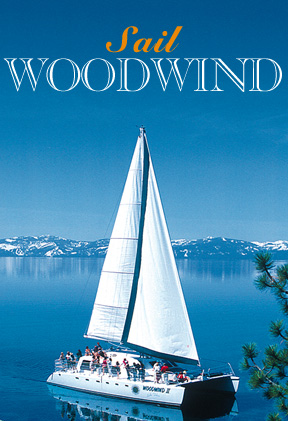 Available for Private Charters & Weddings year-round.
Daily Public Cruises available April thru October.
Woodwind Sailing Cruises is one of the oldest sailing companies in the US. We specialize in spectacular daily sightseeing and romantic sunset champagne cruises, weddings, receptions, private cruises and charters . The Woodwind fleet includes the original Woodwind I, a 41 ft. 30 passenger Searunner trimaran sailing to Emerald Bay from historic Camp Richardson Resort on the California side in South Lake Tahoe. The new Woodwind II, a 55 ft. 50 passenger Searunner catamaran sails from beautiful Zephyr Cove Resort on the Nevada eastern shore. Sailing on Lake Tahoe more than 6000 ft. above sea level surrounded by majestic snow capped peaks is an experience to remember. Join us for one of our daily cruises or let us help you plan that special charter or wedding. Ask us about your wedding license, minister, catering, flowers, or photographer, we can arrange it all for you. Check out our web site for alot more information and photos!
Daily cruises and Sunset Sails departing daily April - October from Historic Zephyr Cove Resort, NV (775) 588-3000 and from Camp Richardson Resort, CA (530) 542-2212
(888) 867-6394 or (775) 588-3000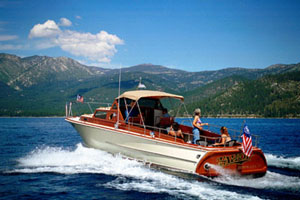 "Tahoe" cruising off North Shore of Lake Tahoe
Completely restored and ready for your private charter!
(775) 588-3000 - USCG Captain Stephen Dunham